---
Rent Microsoft Surface
The Microsoft Surface is the ideal companion for on the go or for the office, due to its versatility. Once you can use a Surface as a Windows laptop. Thanks to the Intel Core i5 or Intel Core i7 processors, the devices are powerful and can perform various processes with ease, which is why you can work perfectly on the go. Compared to conventional laptops, the Surface is lighter, which is why you can easily take it anywhere. The Surface of course has the usual ports for laptops like USB or DisplayPort and renting a Surface is always a good decision since it can be used anywhere and anytime. On the other hand, the Microsoft Surface can also be used as a tablet like an
iPad
since the display is equipped with an interactive touchscreen. We always deliver the devices with the corresponding pen, which allows you to draw on the screen or mark certain elements. In general, the hybrid device combines the advantages of a laptop with those of a tablet. Rent the right
tablet
for every occasion.
Wide range of different models
At get-IT-easy you have the possibility to rent a wide range of surface products made of high quality material. Both hybrid devices, such as the Surface Pro, which is available in all generations, and high-end stationary computers, such as the Surface Studio, are available for rent in high volumes. Thus, the realization of large projects is no problem and results are quickly visible. Thanks to get-IT-easy's professional staff, each device is checked and loaded before shipment. This allows you to always receive a fully functional scope of delivery, with matching tablet accessories if desired. Rent a product from Surface now.
Surface Pro and Go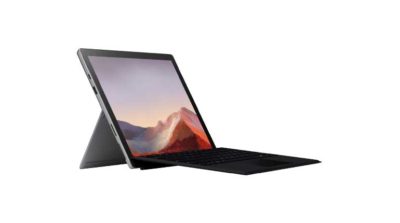 If you want to rent a flexible Microsoft Surface, it is a good idea to rent a
Surface Go
or a
Surface Pro
. We offer these two product lines in every generation. Because the weight of the models is very low at well under one KG, the Pro and Go devices can be safely taken anywhere. You can choose different versions with 4GB, 8GB or 16GB of RAM. Depending on how many GB of RAM you choose, the model is more powerful and multiple processes can be handled simultaneously. Surface Pro models are generally built with more power than the Go models. The familiar
Windows
interface allows you to work with your usual programs even when you are on the road, making it easy to access at any time and thus very flexible. When you rent the Pro and Go variant of the Surface, you have a multifaceted 2-in-1 laptop at your disposal that can be used as a notebook at the same time and as a tablet thanks to the touchscreen. Starting with the Surface Pro 5 (2017), the models can even be used with a SIM card, so you are also connected to the Internet on the go.
Surface Studio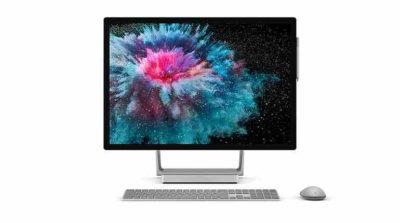 The
Surface Studio
, on the other hand, is designed for stationary use only. However, the all-in-one PC is extremely powerful and the touchscreen is one of the best on the market. If you want to work with a specific software, we can install it for you in advance. The strong processor also allows you to work with any app without any problems. Optimal wenn Sie aufwendige grafische Arbeiten im
Homeoffice
oder Büro erledigen müssen. Feel free to try it out and make a non-binding request if you would like to rent a Surface. If you go to the individual products, you will find more detailed product descriptions. We will be happy to advise you at any time on the selection of the right hardware for your requirements. As alternatives, we also offer devices from Apple, such as the
iPad
or the
Galaxy Tab
from Samsung.
Surface Book
You can find the
Surface Book
with a display size from 13.5 to 15 inches. The Surface Books are among the most powerful
Microsoft
laptops. If you rent the Surface Book 3, for example, you can expect a classy 2-in-1 laptop in a high-quality Microsoft design. With a battery life of up to 20 hours, you can fully unleash your creativity with great performance. With this battery power, you can theoretically work a full workday and on your way home. By renting a Surface like the Surface Book, your data will definitely have enough space on the 256 GB, 512 GB or 1 TB hard drive storage, even if you take the lowest size. Thanks to SSD, your data can be accessed quickly at any time. Ideal for your office.
Service and delivery
Möchten Sie ein
Tablet
, wie das Surface mieten? Then request your non-binding offer now. We will be happy to assist you and advise you with our years of experience. All products are shipped in environmentally friendly reusable boxes and also arrive at your door as quickly as possible thanks to overnight express shipping.